Gasfield justice: Organizing people to have a fair say on drilling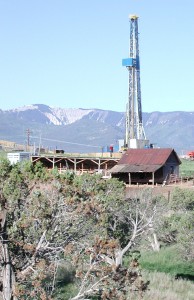 Western Colorado has lived with oil and gas development for decades, but new technology lets it happen closer to people and neighborhoods. All across the state, people are feeling the impacts of this industry. Residents may be directly impacted by air pollution, noise and water contamination; the wider community is apt to experience increased traffic, strained infrastructure and social services, and economic upheaval.
WCC's Gasfield Justice program helps people in the Piceance Basin of western Colorado join together to have a fair say in where and how drilling will occur. Our position is not that oil and gas development should be banned, but rather that it shouldn't be done everywhere, and it must be done right. WCC is working for:
At least 1,000-foot setbacks from homes and 1,500-foot setbacks from schools
Legal standing for neighbors and longer public comment periods
High performance standards if drilling is allowed near people
Protection of local government power to regulate industry
More inspection of wells near people, populated areas or waterways
Higher penalties for rule-breakers, especially repeat offenders
Financial assurance that covers damage to nearby properties
Investment in air quality monitoring near oil and gas facilities
Comprehensive study of public health impacts
Our Campaigns
Battlement Mesa: After years of battling with oil and gas companies,residents were encouraged in February 2017 when Battlement Mesa Company withdrew its proposal to create a wastewater injection well zone in the community.  <<Read more>>
Mesa County Proposals: WCC members won a reprieve on Fram's proposal to drill 108 wells on nearly 26,000 acres along the western flanks of the Grand Mesa. A large portion of this area lies in or near the watershed that supplies drinking and irrigation water to Grand Junction, the Western Slope's biggest city.  <<Read more>>
North Fork Valley: WCC plans to advocate for a Citizens' Alternative in the BLM's draft Resource Management Plan for the region, which would protect water supplies and a thriving agricultural economy.  <<Read more>>
Colorado Oil and Gas Policy: WCC has been active in statewide policy-making for decades. In the 2017 state legislature, WCC fully supported HB 1256 which would have closed a glaring loophole in state regulations where schoolchildren are unnecessarily exposed to the impacts of oil and gas drilling and fracking. <<Read more>>
Contact WCC Organizer Emily Hornback at (970) 256-7650 or emily(at)wccongress.org for more information or to get involved.