Federal gasfield policies: defending the BLM Methane Rule
Natural gas is primarily methane, a colorless, odorless greenhouse gas that can escape undetected from hundreds of thousands of different sources across the natural gas supply chain – from the well pad to processing facilities to pipelines, and everywhere in between.
Also released with methane are volatile organic compounds – a variety of chemicals gases that can have short- and long-term adverse health effects.
Every year the industry leaks millions of tons of methane and other dangerous pollutants into the air. These emissions could be cut in half by implementing cost-effective tools and technologies. But uncontrolled, these emissions represent the waste of an important energy resource, deteriorate air quality and increase our rate of global warming.
WCC and the Western Organization of Resource Councils have been working for decades to curb these emissions and pass regulations at both the state and federal level to better protect our communities.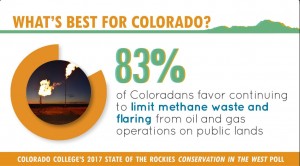 In 2013, we succeeded in passing some of the toughest state-level methane regulations in the country in Colorado. These rules paved the way for new federals rules to be adopted by the Bureau of Land Management. The BLM manages all of our publicly and tribally owned minerals, representing hundreds of millions of dollars of taxpayer-owned resources.
Last year, we won a big victory when the BLM adopted new rules that would reduce venting, flaring, and leaks from both current and future oil and gas development.
But these new rules are now under attack from the US Congress, and we need all the help we can muster to prevent their repeal. Colorado's own Sen. Cory Gardner is one of only two Republicans who remain undecided. That means you can make the difference on this vote! Phone calls are the most effective at this point – call Sen. Gardner at (303) 391-5777 or (202) 224-5941, or click here to send an email on these crucial protections.
Contact WCC Organizer Emily Hornback at (970) 256-7650 or emily(at)wccongress.org for more information or to learn how you can get involved.