Public lands: protecting western Colorado's legacy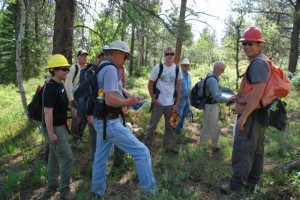 Protecting federal public lands has been a priority issue for WCC since its inception. In over 35 years of leadership and activism, our campaigns have established new wilderness areas, closed damaging off-road vehicle trails, halted unsustainable logging, and protected our forests.
Some of our recent successes include:
Winning protection for 44,100 acres of Lands with Wilderness Characteristics in the new Resource Management Plan for the BLM's Grand Junction Field Office.
Securing important travel restrictions for Bangs Canyon and other areas highly valued for quiet recreation.
Gaining a strong Resource Management Plan for the Dominguez Escalante National Conservation Area, including Wild and Scenic suitability and limitations on off-road vehicle use.
Our Campaigns
The Grand Mesa, Uncompahgre and Gunnison (GMUG) National Forest covers more than 3 million acres spanning the Grand Mesa, the southern flanks of the Elk Mountains, the Uncompahgre Plateau and the northern San Juan Mountains.

The Forest Service is expected to begin revising the GMUG Forest Plan sometime in 2017. This is a high-stakes process that offers tremendous opportunities for conservation – but also considerable risk of losing ground if we don't intervene effectively – as the plan will guide the Forest's decisions on recreation, oil and gas development, wildlife habitat and more over a 20-plus-year period.

WCC members have also played a leading role in brokering what is shaping up to me a reasonable compromise on a massive forest treatment project proposed by the GMUG National Forest known as "SBEADMR."
The San Juan Mountains Wilderness Act seeks to protect 61,000 acres of gorgeous and unique high elevation lands in southwestern Colorado. The Act would create additions to existing wilderness areas and protect some of the last remaining large tracks of undisturbed wild land in three counties. This bill has been introduced several times in Congress but has failed to gain support for Representative Scott Tipton. WCC continues to work with our partners to get this bill across the finish line.