Oct
27
Fri
Colorado Wilderness Gathering

@ Palisade Community Center
Oct 27 @ 5:00 pm – Oct 29 @ 12:00 pm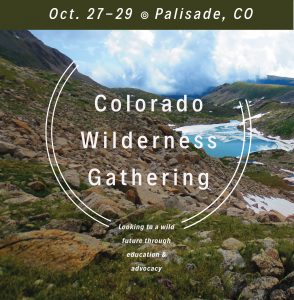 Join us for a two day workshop to celebrate wilderness and wild lands and to learn how you can get involved. Now more than ever, our collective leadership and voice is needed to protect the places we love. It's time to come together as public land conservation advocates to learn from each other, discuss current campaigns, and brainstorm pathways to effective change.
Deepen your connection to wildlands issues
Advance your skills in advocacy and grassroots strategies
Celebrate past successes while planning for future conservation efforts
Inspire and get inspired from fellow conservation leaders
Advancing awareness of equity, inclusion, and justice in the outdoors
The Wilderness Gathering will be fun and engaging and include speakers, presentations, panels, breakout sessions, and place-based hikes.
Nov
11
Sat
Mountainfilm on Tour in Montrose

@ Montrose Pavilion
Nov 11 @ 4:30 pm – 10:00 pm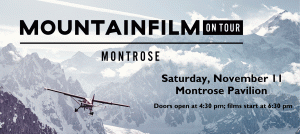 Doors will open at 4:30 pm with a cash bar and a Silent Auction open for bidding! Films will start at 6:30 pm. Check out our playlist of films here.
No ticket required. $10 suggested donation.
This very popular community fundraiser will once again offer an evening of world-class short films that will explore the themes connected to Mountainfilm's mission to use the power of film, art and ideas to inspire audiences to create a better world. These exciting, touching, and often humorous films will inspire adventurers and non-adventurers of all ages.
Co-sponsored by Uncompahgre Valley Association, WCC's Montrose County affiliate, and Community Options.